Quick-Start Guide
The ReWaRD 2 Quick-Start Guide includes three tutorials that show you how to use the main features of ReWaRD. Each tutorial provides step-by-step instructions on how to drive the program. The tutorials increase in difficulty and are designed to be followed in order.
Contents
Introducing ReWaRD 2.8
Tutorial 1 - cantilever wall in sand
Tutorial 2 - propped wall in stiff clay
Tutorial 3 - cofferdam in mixed soils
Download
ReWaRD 2.8 Quick-Start Guide
(version 2.8.1, 7.9 MB)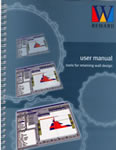 User Manual
The ReWaRD 2 User Manual explains how to use ReWaRD. It provides a detailed description of the program's user interface, based on a multi-windowed design centred on the Stockyard and multiple Workbooks.
Contents
Documentation
Overview
Menu Bar and Toolbar
The Stockyard
The Workbook
Reports
Wizards
Program Options
Downloads
ReWaRD 2.8 User Manual
(version 2.8.2, 7.6 MB)
Reference Manual
The ReWaRD 2 Reference Manual gives detailed information about the engineering theory that underpins ReWaRD's calculations. The manual assumes you have a working knowledge of the geotechnical design of embedded retaining walls, but provides appropriate references for further study if you do not.
Contents
Documentation
Earth pressures
Required embedment
Structural forces
Peck's envelopes
Base stability
Displacements
Durability
Safety factors
Engineering objects
References
Download
ReWaRD 2.7 Reference Manual
(version 2.7.7, 870 kB)